FAQs
What is Deli Portugal?
Deli Portugal's provides a Portuguese gastronomic experience through top quality flavours. Portugal's premium products, certified, awarded, PDO and organic its stoties and gastronomic origin by an online service delivery and international shipping.
What do the prices reflect?
All prices include VAT at the going rate in Portugal - as demanded by law - as well as delivery charges within the Portuguese Continental Territory.
Orders from countries outside the European Union may incur additional customs duties at their ports of entry. Such duties may vary from country to country, are not included our prices and are not our responsibility. It is advisable to ascertain such duties prior to placing a final order.
The description, picture and information about a product presented in the Deli Portugal online store may be changed without notice. The images that illustrate each product may differ from the final shipped product.
All prices shown  may be changed without prior notice and are subject to availability.VAT may be deductible for public or private companies registered within a European Union country.
​
How to place an order?
Our site contains simple yet detailed instructions as to how to move selected produts to the shopping cart,  be it for single or multiple products, as well as to finalize an order, choosing the order destination with the respective weight.
Just follow this steps:
1) Click in "add to cart "
2) Select the number of products
3) Press "Checkout"
4) follow the site instructions and fill your personal data for the deliver process
5) Open the "shipping option" window and choose your option
6) Confirm your data information and "finish the order" in the bottom of the page
Choosing maritim transportation for Madeira and Azores please bare in mind that it  takes more days to arrive (6-10 days) so don't order perishable products.
All alcoholic beverages available for sale may only be acquired by persons of an age to do so according to the laws of the country of residence
How are the products delivered?
All products are always properly packaged and prepared for shipping.
All orders destined inside the Portuguese Continental Territory are sent by surface delivery. All other orders will be dispatched by the Portuguese Post Office (CTT), which tracking system is made available to our clients should they wish to follow  up on the status of their deliveries.
​
How are the shipping costs calculated?
Shipping costs are calculated according to the estimated weight and destination of a given order, when they are still in the shopping cart, prior to the final order being completed.
Please check all delivery charges prior to finalizing an order and authorizing payment.
What are the accepted forms of payment?
PayPal, a valid credit card or a bank transfer are accepted.
Payments by bank transfer will accepted within 3 working days from the money having been received by Deli Portugal, with a receipt being sent to the Client by e-mail or by accepted e-banking methods, with any unpaid orders after this period being cancelled.
You can send us an email to deli@deliportugal.com asking to pay by bank transfer and we will send you our NIB account.
How long do the deliveries take to reach their destinations?
All orders destined inside the Portuguese Continental Territory will be delivered in 24 to 36 hours after dispatch.
Orders destined for the Portuguese Isles and to the E.U will be delivered  1 week after dispatch.
Orders for the rest of the world will be delivered  2 weeks after dispatch.
Delivery Guarantee
Deli Portugal dispatches all orders by registered mail in order to ensure their correct and timely delivery at their destinies.
What is  the returns & refund policy?
1) Defective articles must be returned up to 5 days of their delivery, in their original packaging and in good condition, whereupon the Client will be refunded the full purchase price and delivery charges.
2) Deli Portugal is not responsible for orders and subsequent shipments to countries where alcoholic beverages are not allowed and, in such eventualities will only reimburse the anount paid for the merchandise.
​3) Amounts charged relating to articles ordered but that were not dispatched owing to being out of stock will be refunded in full.
What is our Privacy Policy?
Deli Portugal commits neither to use its Client database for any other purpose than that of processing order not to cede it by whatever means to any 3rd party for whatever reason. All our Clients may, at any moment, and in accordance with the Personal Data Protection Act, exercise their right to alter, update or delete their information from our Client database.
​
What is the Product Selection Criteria?
Wines
The selection of wines is  first made by the Client according to type (Verde, White, Red, Rosé, Sparkling, Madeira, Moscatel and Port), price and tasting notes, with the final choice of brand being made by Deli Portugal from a comprehensive, national and international award-winning (Concours Mondial de Bruxelles, Internationales Vinalies, 50 best Portuguese Wines in the UK  and USA, Wine Masters Challenge, International Wine Awards, Decanter World Wine Awards, amongst others) wine list that takes into account enologists and/or wine critics grades of 15 or above as well as other recognized standings. This process applies to all wines on offer other than Wines of the Year, category (available soon) where the Client will receive the exact brand(s) ordered – and upon ordering our wines based on the abovementioned process, Clients automatically acknowledge and accept such a process and the conditions thereof.
Wine Tasting Notes
Reflect the published league tables and standings stating where and when such wines receives awards or nominations (such as Concurs Mondial de Bruxelles, Internationales Vinealis, 50 best Portuguese Wines in the UK and USA, Wine Masters Challenge, International Wine Awards, Decanter World Wine Awards, amongst others), with a minimum note of 15 to 20.​
Tasting Notes Details:
15-15,5/20 or 86-89/100 pts: Well-rounded and pleasant to the palate as well as affordable
16-17,5/20 or 90-94/100 pts: Very good, well-balanced wines, with a marked character
18-18,5/20 or 95-96/100 pts: Excellent, refined and characterful wines that impress and delight the senses.
19-20 or 97-100 pts: World class wines of undisputed top quality and sophistication.
This criteria appliess to all wines that may come from any region of Portugal depending on the stock producer. Any region or brand could be the selected one within the respective commercial value, type of wine and tasting notes given.
​
Denominations of Origin: DOP, DOC, IPR, IGP, VQPRD, VLQPRD, VEQPRD, VFQPRD, Regional Wines
Denomination of Controlled Origin (DOC/DCO) The name given to wines whose production is traditionally linked to a region that is geographically delimited and subject to a number of rules consigned in legislation (characteristics of the soil, recommended and authorised grape varieties, practices of winegrowing, alcoholic content, training time, etc.)
In reality, only the oldest producing regions of this type of wine, obtained this statute.
Protected Denomination of Origin (DOP/PDO) Is the name of an area (which geographic boundaries are defined by EU legislation), a specific place or, in exceptional cases, the name of a country, used as a designation for an agricultural product or a foodstuff which comes from such an area, place or country, whose quality or properties are significantly or exclusively determined by the geographical environment, including natural and human factors and whose production, processing and preparation takes place within the determined geographical area. This denomination covers products such as wines, cheeses, hams, sausages, olive oils, breads, fruit and vegetable, and their holders have a specific intellectual property right that supersedes and renders null and void in law any attempt by products or brands from outside a DOP to use or even evoke such a designation.
Protected Geographic Indication (IGP/PGI) Is a classification or certification issued by the EU to comestibles or agricultural produce traditionally produced in a given region, to ensure that their characteristics, quality and production processes are in keeping with the traditions that gave them their renown.
Indication of Regulated Provenance (IPR/IRP) Relates to products that, although being of recognised high quality, still have to fulfill all the rules and requisites to ensure that their quality is consistently maintained over a minimum period of 5 years in order to qualify for the DOC classification.
VQPRD - Quality Wine Produced in a Delimited Region, encompassing both DCO and IRP wines
VLQPRD - Liqueur Quality Wine Produced in a Delimited Region
VEQPRD - Sparkling Quality Wine Produced in a Delimited Region
VFQPRD - Fizzy Quality Wine Produced in a Delimited Region
Regional Wines - Classification given to table wines with a geographical indication. As well as wines that are produced in a specific region; made with grapes that come from at least 85% of the same region and from authorised and recommended grape varieties; subject to a system of certification.
​
Deli Portugual sources its wines from an award-winning selection and top quality range to reflect the best of Portugal.
Wine Producing Regions of Portugal
Portugal Wine Map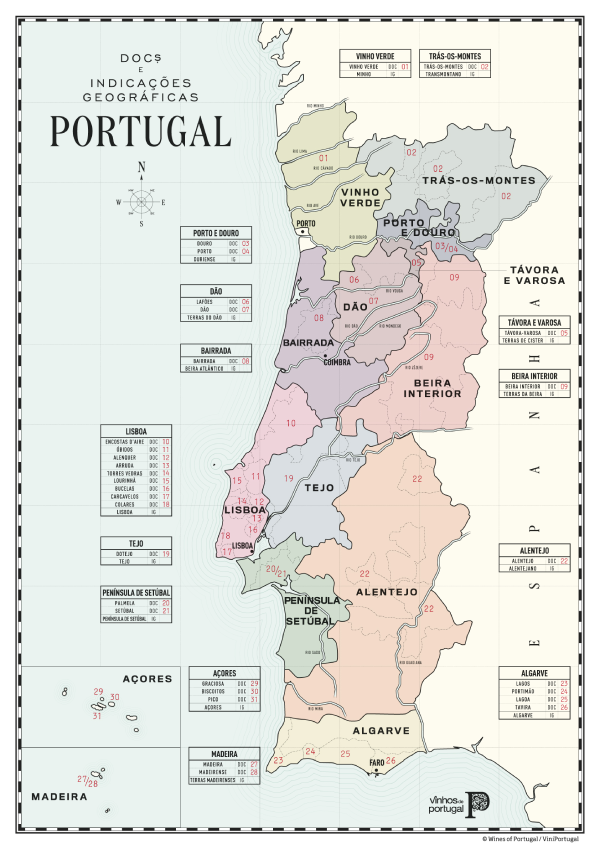 ​
To clarify any doubt, request additional information or suggestions, please feel free to contact us.